Prattville Police Collecting Items to Help Officers in Panama City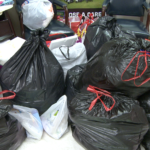 In the aftermath of Hurricane Michael, the Prattville Police Department is working to collect items  to help members of the Panama City Police Department who lost everything in the storm.
Around 50 sworn officers and their families are currently living in hotel rooms. The Panama City police Department is doing its best to feed the families, but as their food and supplies run out, they're reaching out for help.  Investigator Scott Baxley with Prattville Police is answering that call.
"I received a phone call from a friend of mine. He's a lieutenant down at Panama City Beach, Florida, and he reached out to me to see if we could help out."
Among the families are 25 children, ranging from infants to teenagers who are also in need of items.
"The biggest thing he talks about was the every day essentials, like toothbrushes, toothpaste, deodarant, stuff like that, clothing," Baxley said.
Items like non-perishable food items and cases of water are being requested, but there are some things the department cannot accept.
"The one thing we can't accept is any cash or gift cards. We're just mainly wanting to get the items that we're requesting on our Facebook page," Baxley said.
The response Baxley has seen since a post was made on the Prattville Police Department's Facebook page is overwhelming. He says no matter where the tragedy takes place, it's Prattville police's duty to serve those in need.
"It's very important for us to take care of our families, and it doesn't matter if it's in Alabama or in the state of Washington, if we've got families in need,we're gonna do what we can to help support these families."
Baxley says the police department will continue to take up donations for at least another week. All donations can be dropped off at the Prattville Police Department.