Fourth Person Charged in Oct. 3 Fatal Shooting in Montgomery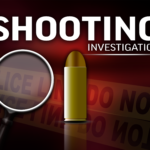 Montgomery Police have charged another person in the shooting death of 27-year-old Terry Tallie.
25-year-old Markieth Manora has been charged with one count of Capital Murder. Manora is the fourth person charged in the case.
Manora is being held in the Montgomery County Detention Center without bond.
Tallie was shot at his home in the 2000 block of Lucas Drive on Oct. 3. Police say the shooting stemmed from a domestic dispute.
The three others previously charged with capital murder in the case are 24-year-old Shanterrica Goldsby, 29-year-old Lucy Smith, and 24-year-old David Coleman Jr.