Monster Chemistry Lab Helps Teach Students the Joy of Science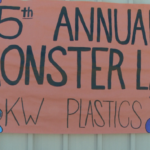 If students in Alissa Jordan's science class at Pike Liberal Arts in Troy were scared of science before, that has now changed. On Wednesday, students were getting into the Halloween spirit through some spooky lab experiments.
"You know, Halloween is a lot of fun," Jordan said. "But science makes everybody scared.  So we're trying to take the scare out of science, sort of, and make it a different kind of scare."
Jordan came up with the idea of a monster chemistry lab five years ago. Students researched different chemistry projects and come up with different Halloween themes, which are introduced to the younger students of the school.
"Some of them are theming it around spooky things, like Ghost Busters and Scooby Doo and things like that," student Gavin Paul said. "And some of us are just asking simple questions, like 'what are you gonna be trick or treating with or what are you dressing up as."
Explosions, smoke and robotic ghosts are used to teach the students that science can be fun.
"Making little explosions, and that's pretty cool," student Dakota Lasseter said. "The kids seem to love it because all of a sudden, an explosion happens and chaos happens."
Lasseter was in charge of controlling a robotic vehicle that drove towards the kids. The kids then waved "magic wands" to defeat the robot.
The projects are safe for the students to use, as long as they were handled correctly. Jordan says she hopes the students will see that science isn't as scary as it might seem.
"Just share the fun of science, so they have something to look forward to when things get hard, there is another side to science," Jordan said.
This was the fifth annual Monster Lab Pike Liberal Arts has put on.