Montgomery Fire And Rescue Graduates New Firefighters, Aiming To Fill More Openings Soon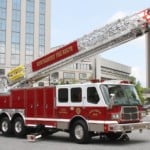 20 new firefighters took the path to protect and serve Thursday at Montgomery Fire and Rescue's graduation ceremony. Still, officials say even more fire personnel are needed.
Montgomery Fire and Rescue was recently awarded a 3.5 million dollar federal grant as a part of the Federal Emergency Management Agency's (FEMA) Staffing for Adequate Fire & Emergency Response (SAFER) grant program.
Right now, Chief of Operations Eddie Gaunt says there are some 415 men and women on staff.  The goal, Gaunt says, is to reach 448.  He says they've stepped up in advertising the dozens of job openings, and that new classes of firefighters are graduating more frequently.
"We normally try to do it about every three or 4 months," he explained " but we have them overlapping in order to try to get more personnel in the department".
The SAFER grant is to be used to help with staffing over the next three years, though officials aim to fill the nearly 3 dozen more openings as quickly as possible.