Troy Trojans Prepare for Big Homecoming Weekend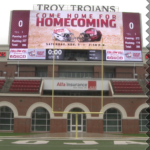 Homecomings are a chance to meet up with old classmates, see the changes of campus, and take part many campus activities. The Troy Trojans are gearing up for their big homecoming game this weekend against the University of Louisiana-Lafayette Rajun' Cajuns.
Alumni director Faith Ward says this is the time when people from all around come back home.
"Well, it gives us an opportunity here at Troy to showcase the University," Ward said. "And all the folks that come back, sometimes they get to comeback once a year, because they're busy raising families or have jobs and things. And you know, our alumni live all over the world."
There are several events planned in the leadup to the game. Those events are what some say will be remembered the most.
"I really think that it sets the record for you being involved in Troy even after you're not a student here anymore," graduate student Lauren Machen said.  "So you get involved with homecoming now, and you attend the game, and you remember the memories that you make while at homecoming."
Several students say they were enjoying homecoming week events and were expecting a lot of excitement for saturdays game.
"I think it's going to be great turn out, honestly," student Samantha Williams said. "I'm sure they've been preparing all week for it and I'm sure it going to be a blowout."
"It's homecoming, so you should want to come and celebrate with fellow Trojans. Homecoming has been great so far," student Courtney Jones said.
Kickoff against Louisiana-Lafayette is scheduled for 2:30 pm.
On Friday, a pep rally will be held at Janice Hawkins Park at 5:30. The public is invited to attend. A World War II Era Reunion is set for 5:00 p.m.
On Saturday, the annual homecoming parade is set for 10 a.m. The Trojan Walk will be at Tailgate Terrace at 12:15. Pregame Festivities, including the announcement of the Homecoming Court will be prior to kick off at 2 pm. The crowning of the Homecoming Queen and the Alumni of the Year will take place during the halftime show.