Sheriff Identifies Prattville Girl Killed in Accidental Shooting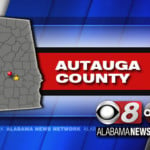 Autauga County officials have identified the 9-year-old Prattville girl killed in an accidental shooting over the weekend.
Sheriff Joe Sedinger says Alyssa Davis died at Children's Hospital in Birmingham after she shot herself with a handgun Sunday afternoon.
Davis was a student at Pine Level Elementary School. Counselors are now available for her classmates and other students.
Sedinger is urging all parents to keep their guns locked away and out of reach of children.