New Monument Wall Pays Tribute to Vietnam War Heroes from Central and South Alabama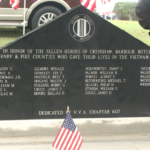 Pike County's Veterans Day celebrations included the unveiling of a monument in Troy's Bicentennial Park. Twenty-six  names are engraved on the monument, representing twenty-six lives from Pike, Barbour, Butler, Henry, and Crenshaw counties who paid the ultimate sacrifice by giving their lives in the Vietnam War. President of the Chapter 607's Vietnam Vet of America in Central Alabama David Payne says his post has been working on the project for a while.
"We put these walls up for people to come from the rural areas that will never ever get the opportunity to go to Washington," Payne said.
The monument walls began as a boy scout project in 1994. It has since become a tradition for the organization to honor those who gave their lives in the war.
"From that, the Vietnam Veterans adopted the program," Payne explained. "100 percent of money raised by the Vietnam Vets of America goes to help our veterans in need."
Families of those whose names are on the monument were honored with special recognition at the unveiling. Deborah Huggins-Davis's first cousin, Bobby Gene Huggins, died while fighting in the Vietnam War.
"Bobby Gene was a fine, Christian man who served his country well," Huggins-Davis said.
Representing her family, Huggins-Davis says seeing her cousins name on the Memorial wall is humbling.
"As a member of the Huggins family, I'm very proud and honored that his name is on the Vietnam wall."
Payne says lives may have been lost, but the wall serves as a memorial of a sacrifice that shouldn't be forgotten.
"It becomes part of the ground that its planted in," Payne said. "That's not a tree, but it might as well be until lightning strikes it or you have to do something different. That's where it stays."
This was the VVA for Central Alabama's fifth monument in the state. They're planning to have their next monument placed in Chilton County.