Troy Student Charged in Hit-And-Run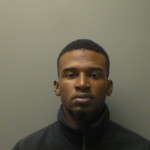 The Troy Police Department has announced an arrest in the Nov. 2 hit-and-run that left a Troy University student injured.
21-year-old Michael Alfonzo McKenney II, of Montgomery, turned himself in to the Troy Police Department on Tuesday on a warrant for leaving the scene of an accident.
Police say McKenney, who is also a Troy University student, was the driver of a white 2010 Mercury SUV that struck another student on Park Street at the intersection of University Avenue near the Troy University Campus.
Police say the victim's injuries were serious, but not life threatening.