Local American Legion Feeds Veterans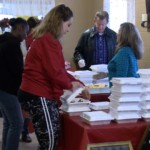 A pike road American Legion post is giving back to the community this holiday season.  American Legion Centennial Post 2019 teamed up with Pleasant Grove Missionary Baptist Church to provide meals for fifty veterans. Volunteers from the popular food delivery app Waiter helped with food preparation and delivery.
The food was provided  by Jim N Nicks BBQ and Kings Table Catering. The event was so successful that in total the American Legion served 219 dinners.
American Legion Centennial Post 2019 Chaplain Bishop G.F. Austin says , " It's our job to support the veterans and the families. Some of them are had to be separated, and when they come back home sometimes they have nobody else. They gave their life to the country, so its our job to support them as well, in any way we can."
The American Legion is planning to host events similar to this one in the near future.