Students Help Salvation Army Prep For Thanksgiving Day Crowd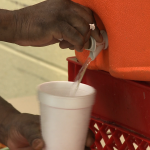 The Salvation Army in Montgomery is preparing to serve one of its largest crowds of the year, on Thanksgiving.  Wednesday, the organization got a little bit of help from  nearly a dozen Lee High School rolled up their sleeves  to prepare the hot meals for those in need.
"It helps me feel better about myself as a person knowing that I'm going out making a difference in the community and making it better" said junior Demetria Renfroe.  She and her fellow student volunteers are apart Rho Kappa Social Studies Honor Society.
Each day, the Salvation Army's kitchen serves between 250 and 350 meals. The kitchen is open 365 days a year.
Thursday, the organization will be serving Thanksgiving meals in their kitchen in addition to preparing meals to pass out in the Montgomery area.
Organizers say that most of their volunteer needs in the kitchen have been met but Corp Officer Lieutenant Tonya Farrington said it's not always the food, that has a lasting impact on those they serve.
"Sometimes people just need a voice or an ear to listen to" she explained   "so when people come in to volunteer and they get an opportunity to talk with some of our clients that helps as well".