Election Results to be Certified Next Week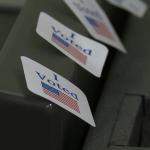 Alabama's state elections results will be certified next week.
The secretary of state's office said the canvassing board will meet at 2 p.m. Tuesday in Montgomery.
The governor, attorney general and secretary of state will canvass and certify election results during the meeting.
None of the statewide races had narrow margins, as Republicans swept all statewide offices.
Unofficial returns show that Gov. Kay Ivey defeated challenger Walt Maddox after capturing nearly 60 percent of the vote. However, Maddox did perform better than 2014 Democratic nominee Parker Griffith.
There were about 2,600 write-in votes in the race for governor.
(Copyright 2018 The Associated Press. All rights reserved. This material may not be published, broadcast, rewritten or redistributed.)