Alabama Fans React to SEC Champ Win, CFB Playoff Hopes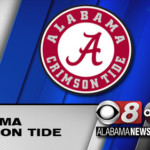 It was a fight to the finish and emotions were high as top-ranked Alabama faced the Georgia Bulldogs in the Southeastern Conference Championship game Saturday. Fans say they were on the edge of their seats all game.
"It was a little nerve-wracking. Pretty much the whole game was nerve-wracking," Crimson Tide fan Brady Medley says.
"When we was behind, it was very very tense and emotional," Alabama fan Cynthia Williams said.
With the Crimson Tide trailing 14 points at the half, the largest deficit the team faced all season, fans started to feel disheartened.
After starting quarterback Tua Tagovailoa went down with an injury, last year's Jalen Hurts took over and led the team to a comeback victory. Fans say they were relieved to get through a tough game.
"We always had that gun," Williams said. "We always had Hurts. When we needed him, he came through."
"We're a second half team," Tide fan Loretta Slaton said. "No matter how much we're down, when we're down, Nick and the team always come back up."
Despite winning a close game, some Tide fans say this could be the best Alabama team they've seen.
"Nick knows the best," Willaims said. "He's the coach and he does what he needs to do to make Bama be number one. We're number one for a reason."
"There's nobody out there that can beat us," Slaton says. "We're number 1. We've done proved it, we've done showed it."
Fans are already looking forward to the college football playoff semifinals. The Crimson Tide will face fourth-ranked Oklahoma Sooners for the Orange Bowl. Fans say there are some things the team needs to work on to prepare.
"We just gotta work on some minor things, like missed assignments and keeping momentum at the beginning of the game and not waiting until the third and fourth quarter to start playing football," Medley says.
"Our defense could get a little better and it's like it's getting better every game we play," Williams says.