Divers Recover Driver's Body After Car Goes Into Coosa River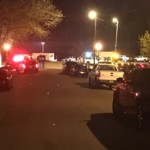 A body was found in the Coosa River after a high speed chase ended in the river late last night. The car crashed into the Coosa River at Gold Star Park.
Police say that Alabama Department of Corrections officers were chasing a car that left Tutweiler Prison Thursday.
They say the driver then took a turn into gold star park and drove right into the Coosa River.
We're working to find out how many passengers were in the car, but we're told at least 2 passengers,  a mother and a 2 year old child  were rescued and taken to the hospital with non life-threatening injuries.
Stay with Alabama News Network on air and online for the latest.