U.S Air Force Secretary Prepares For New Job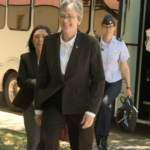 The secretary of the United States Air Force is leaving her position later this month, but not before she made one of her final stops at Maxwell Air Force Base.
Dr. Heather Wilson was scheduled to speak at a National Security Forum.
She talked with media outlets before the Forum about expansion and a sudden crash of a United States-made F-35, considered to be one of the best stealth jets.
The crash occurred last month.
"There's an investigation going on with respect to that air craft and we are supporting the Japanese government on that," Wilson says.
Wilson says despite the crash, she remains confident that F-35's are safe.
"There are over 100,000 flying hours that we have on the F-35. It has reached full-operating capability and it's being used in combat so it's an exceptional aircraft and it's a game-changing air craft," Wilson says.
She also talked about expansion. A budget proposal for 2020 will allow the U.S. Air Force to hire more workers.
"About 5,000 more people particularly a lot of them in the depots, which is where we do a lot of our really heavy maintenance," Wilson says.
The proposed budget would also allow for more pay raises.
"So we are coming out of kind of a slow decline in the size of the air force and we've increased our end strength each of the last 3 years," Wilson says.
Looking back on her time as secretary, Wilson says she's been privileged with working along side some of the best the air force has to offer.
"Particularly with the airmen, getting out to be with them. They have some amazing people who volunteer to serve our country. And they are very highly trained and very good at what they do," Wilson says. "We have some very good leaders in the air force and it's been a real joy to work with them."
Wilson's last day as U.S. Air Force Secretary will be May 31st.
She will then become the President of the University of Texas- El Paso and begin in August.