Update: Suspect in Custody After 4 Hour Standoff In Rutledge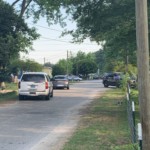 UPDATE: (7:20 p.m.) After a four hour standoff, Craig McCaffee has been arrested and charged with third-degree receiving stolen property, interference of government operations, and resisting arrest.
According to Crenshaw County Sheriff's Office, the Butler County Sheriff's Office requested assistance when serving a felony warrant at the Old Acres Mobile Home Park in Rutledge. Once on scene, the suspect barricaded himself inside a home and refused to come out.
The Greenville Police Department also assisted. Authorities tear gassed the home but the suspect did not come out. Greenville's SRT team entered the home and found McCaffee inside with a knife. They were able to execute an arrest without serious injuries.
ORIGINAL REPORT:
Alabama News Network has received reports of a heavy law enforcement presence at the Old Acre Mobile Home Park in Rutledge.
According to the Crenshaw County Sheriff's Office, a subject with a felony arrest warrant is believed to be barricaded inside a residence at the mobile park. A special reaction team is currently on scene attempting negotiations.
Multiple surrounding agencies are assisting.