UPDATE: 1 Person Shot, Another Stabbed in Highland Home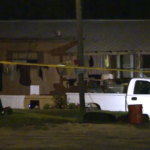 UPDATE:
According to Public Information Officer, Josh Wasden, the shooting occurred during a cook out on Simon Road. The victim in the shooting reportedly slashed a woman several times with a bladed instrument, then turned on the woman's boyfriend. The attacker was then shot by the woman's boyfriend, who was airlifted to Baptist South for treatment.
The victim who was cut was also taken to a hospital and required nearly one hundred stitches.
Wasden said police interviewed several parties and are looking at the shooting as possible self-defense. Police are also looking to charge the shooting victim with assault.
ORIGINAL REPORT:
One person has been shot and another stabbed in the Highland Home community after an altercation took place on Saturday.
According to the Crenshaw County Sheriff's Office, E-911 received a call from the 500 Block of Simon Road at 5:20 pm in reference to two victims, one who was stabbed and the other who suffered from gun shot wounds.
One of the wounded was air-lifted to a hospital for treatment.
Right now, police believe three people were involved and that the shots fired could possibly be the result of self defense.
Police have one suspect in custody. The incident is still under investigation.
Check back with Alabama News Network for updates.