Teen at Horseshoe Bend School Arrested for Making Terrorist Threat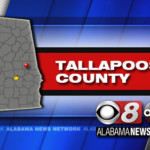 A high school student at Horseshoe Bend School in Tallapoosa County has been arrested for making terroristic threats after several classmates reported him to the School Resource Officer.
According to the sheriff's office, the Tallapoosa County SRO was notified Tuesday morning by several students of a possible threat. After further investigation, it was discovered that a 17-year-old at Horseshoe Bend School made threatening comments earlier that morning about bringing a weapon to school. The student also described a hit list for the following day.
The student was charged with making a terroristic threat. The juvenile was removed from the school and transported to the Department of Youth Services by the sheriff's office.
Making a terroristic threat is a Class C Felony. The investigation is ongoing with assistance from the New Site Police Department, Tallapoosa County Juvenile Probation, and Horseshoe Bend School.