World's First Hydrogen Fuel Cell Vehicles Roll Into Montgomery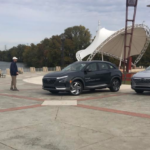 The world's first hydrogen fuel cell sport utility vehicle is now rolling through the streets of Montgomery.
Hyundai Motor Manufacturing Alabama announced on Friday that they would be loaning the Hyundai Nexo to both Governor Kay Ivey and the city of Montgomery for an extended test drive and evaluation period.
The Hyundai Nexo is currently only available for sale in California but the company hopes the evaluation period in Montgomery will help stimulate interest in the vehicle across the country.
"If we can be the first, if we can be the test if you will, and with our success, I think other people and other companies will want to be apart of this," said Montgomery Mayor, Todd Strange.
The purpose of the evaluation period will be to determine the feasibility of clean hydrogen full cell vehicles as fleet vehicles, if hydrogen stations were available as well as promote Hyundai's long standing partnership of innovation with the state of Alabama.
The Hyundai Nexo only takes about five minutes to charge compared to an hour or more like electric cars. It also has other modern features like surround cameras, blind-spot view and it can even park itself.
"If we can get the infrastructure in place, I think this car will take over the electric vehicle market. The biggest benefit is the range of the vehicle and the refueling side of it," said Vehicle Services Specialist, Greg Bryan.
"Ten years ago we did a similar program in California to be able to launch this technology because it is an eco-friendly, clean mobility solution for all of North America. For all of the U.S.," said HMMA Vice President of Human Resources and Administration, Robert Burns.
The vehicle needs a special fueling station which there are only a handful in the U.S. All of those are on the West Coast which has kept sales limited to that area. All that could change if the city decides to invest in zero emission public buses or fleet cars in the future.
Hyundai Motor Group says it aims to produce $700,000 fuels systems each year by 2030.