Woman Charged with Arson in Chicken House Fire that Killed Nearly 30k Chickens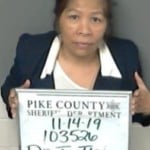 A Chicago woman has been charged in connection to a fire that destroyed four chicken houses in Pike County.
According to the Pike County Sheriff's Office, Tu Thi Do, 62, has been charged with four counts of second-degree arson in the burning of four Goshen chicken houses. The fire happened on June 2 in the Henderson Community, located off Pike County Road 2239.
Investigators said Do had a $700,000 insurance policy on the chicken houses.
Between 25,000 and 30,000 chickens were killed in the fire. Do owned the houses but Wayne Farms owned the chickens that were inside.
Do turned herself in and was later released on a $40,000 bond.