UPDATE: Suspect Sought in Selma's First Murder of the Year Turns Himself In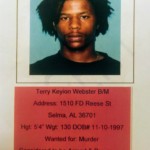 Update: Saturday, February 8
Authorities say Terry Keyion Webster turned himself in around midnight on Friday.
He is being held in the Dallas County Jail without bond.
Update: 8:00 PM Friday, February 7
Selma Police have released a picture of the suspect in the city's first murder of the year.
Police are searching for Terry Keyion Webster. Webster is considered to be armed and dangerous.
Sgt. Ray Blanks says police responded to the 1900 block of Keller Avenue in reference to a gunshot victim. He says when investigators arrived on the scene, they found a teenage male victim lying unresponsive.
Sgt Blanks says the victim was pronounced dead on the scene.
Anyone with information on Webster's whereabouts is asked to call Selma Police at (334) 874-2125.