Wind Creek Extends Closing to March 30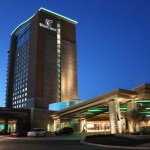 Wind Creek announced Sunday that it will keep all Alabama properties closed until March 30.
On Saturday, Wind Creek originally announced it will voluntarily close its properties for a 24-hour deep clean after a patron with COVID-19 visited the resort in Wetumpka. All properties were scheduled to reopen on Monday at 6 a.m.
The company announced that there have been no reported cases of coronavirus at Wind Creek Montgomery or Wind Creek Atmore.
In a statement Wind Creek says, "Upon further consideration of the events occurring during these unprecedented times facing our communities and country, Wind Creek will voluntarily extend the closure of its Alabama properties until March 30, 2020."
ORIGINAL REPORT: 
Wind Creek announced Saturday it will close all of its properties in Alabama for an intensive deep cleaning.
Wind Creek says one person who has been diagnosed with coronavirus visited the Wind Creek Resort in Wetumpka in the third week of February.
The closure is effective at 6 a.m. Sunday and will last through 6 a.m. Monday.
Following the deep cleaning, Wind Creek says all properties will reopen with the following "Social Distancing" practices in place:
Limiting active machines on the casino floor, high limit areas, and non-smoking areas so that spacing between active games meets social distancing guidelines
Limiting and spacing seating at all restaurants and bars
Limiting and spacing seating at other public outlets to be consistent with social spacing protocols
Configuring queue lines to support social spacing patrons
Wind Creek says it is committed to paying both salaried and tipped employees during this temporary closure.
Wind Creek says no other cases of the coronavirus have been reported at any of its other properties at this time.