ADPH Releases New Guidelines As CoronaVirus Case Numbers Increase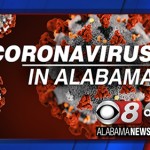 There are now at least twenty nine confirmed Coronavirus cases in Alabama. That number includes Montgomery County's second confirmed case, according to the Alabama Department of Public Health's website.
The number is expected to rise as more tests take place. The ADPH has issued new guidelines to help protect residents from catching the disease.
ADPH officials say they're continuing to work with the Centers for Disease Control and other agencies to provide guidance and protective measures regarding the Coronavirus.
They encourage residents to continue practicing social distancing and other precautionary measures to help reduce the spread.
Alabama State Health Officer Dr. Scott Harris issued new recommendations Monday at a press conference at the RSA Tower in Downtown Montgomery.
The recommendations include:
no mass gatherings of 50 persons or more, or gatherings of any size that cannot maintain a consistent six-foot distance between participants (with exceptions noted below). this may include festivals, parades, assemblies, or sporting events.
senior adults or those with chronic health problems should avoid gatherings (outside of close family) of 10 or more persons, and should avoid travel by air, train or bus.
For retail business, including restaurants, limit patronage at any one time to 50% of the normally allowable capacity. Restaurants should maintain a six-foot distance between tables.
Public buildings should consider whether visitation may be limited. Hospitals, nursing homes and assisted living facilities are encouraged to implement visitation policies that protect vulnerable persons.
All persons should consider whether out-of-state travel plans may be delayed or cancelled.
Participants in religious services or events, weddings, funerals and family events should exercise prudence and maintain consistent six-foot distance between participants if possible.
While workplaces should attempt to heed to these recommendations whenever possible, it is understood that exceptions may be needed for essential government functions, municipal and state legislative bodies, and health care facilities including clinics, hospitals and pharmacies. consider using means for electronic or video meetings in workplaces if possible.
Alabama EMA Director Brian Hastings encourages people to remember the elderly and those most vulnerable to the disease.
"It doesn't mean don't have contact with them. It doesn't mean don't care for them, because this is a human disease. It's going to require a human response," Hastings said.
Officials say the most efficient carrier of the Coronavirus are the young and healthy population who are not showing symptoms.
"The nature of this disease is what is causing our younger generation to say 'I don't fear the COVID-19. Because even though our younger, healthy population can be asymptomatic or have minor symptoms, there's still transmitting the disease," Harris said.
Harris said he doesn't know how long an asymptomatic person could carry the virus- but two to fourteen days is the quarantine period.
The ADPH is tracking how many beds are available in the state- so far, no hospital is experiencing any kind of problem..
The Coronavirus is also causing problems in the cyber world, after the Department of Health and Human Services received a cyberattack while trying to plan a government virus response.
The following are the most important guidelines from the ADPH in protecting yourself and others:
wash hands with soap and water.
use alcohol-based hand sanitizers if handwashing is not possible.
cover your mouth and nose with a tissue, or cough or sneeze into your elbow
avoid touching your eyes, nose or mouth with unwashed hands
stay home when sick
stay away from people who are sick
There is now a toll free number for people who think they have symptoms. The number is 1-888-264-2256.