Antioch Residents Are Counting Their Blessings After Sunday Night Tornado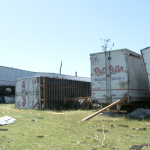 The cleanup continued in Covington County Tuesday after Sunday night's storm damage. The National Weather Service confirmed that an EF-2 tore through area, leaving behind destroyed buildings, uprooted trees, and minor injuries.
In Gantt and Andalusia, several residents could be seen with their chainsaws in hand, hacking away at huge limbs. In Opp, full-grown trees lay beside the roadways.
"We had lots of trees down, a lot of them hit the homes and all. And then power lines down," Opp Mayor Becky Bracke told Alabama News Network.
Along County Road 70, outside of Andalusia, residents in the community of Antioch were left counting their blessings after the tornado.
Rhett and Lynn Butler own the Rhett Butler Trucking company. They were hunkered inside their home with their family and dogs.
They say they only had a two minute warning to find a safe place before the storm hit.
"When day break came yesterday morning, and we walked out and really saw the magnitude of what had happened, it put really a new outlook on how fragil e life is and how quickly things can change," Lynn Butler said
Rhett Butler took me for a drive along the property.
The scene was heartbreaking.
"We're just so fortunate and so proud and give the Lord credit that nobody was seriously hurt," Rhett Butler said.
Dozens of trees could be seen laying across their yards. Piles of debris and tin were strewed across the property.
"Thankfully all of our people were safe and thats the only thing I was worried about was our people," Lynn Butler said.
Now, the family is picking up the pieces. But their receiving help along the way.
"Some of the people we didn't even recognize, they just dropped in and started helping," Rhett said.
"It's unreal the blanket of love that's been thrown about us this week," Lynn said.
Covington County EMA officials say there are more than 100 structures with minor damage. At least 50 buildings have major damage or are a total loss.