ASU Baseball: Hornets fall in opening game of series to Alabama A&M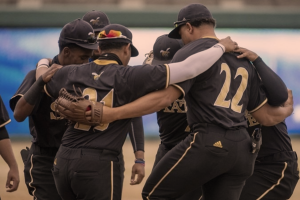 HUNTSVILLE, Ala. | Alabama State dropped their second consecutive road game of the week and had their six-game Southwestern Athletic Conference (SWAC) winning streak snapped Thursday night at Toyota Field, falling to Alabama A&M 10-8.
Alabama State (9-13, 6-4 SWAC) jumped on the board early with a sacrifice fly from Santiago Garcia in the top of the second inning that plated Chris Lewis for the 1-0 lead. The Hornets added another run in the third on a Garcia solo home run to go up 2-0 before Alabama A&M scored four runs in the bottom of the inning to take a 4-2 lead on Alabama State starter Jacknell Guzman (1-2).
The Bulldogs added three more runs in the bottom of the fifth inning to extend the lead to 7-3 before Alabama State answered with a run in the sixth on a Jabronski Williams RBI single, and another in the seventh on an RBI groundout from Abner Benitez to trim the deficit to 7-4. Alabama A&M added three more runs in the seventh off reliever Trevor Jurjevich to extend the lead to 10-4 with just six outs remaining.
Alabama State was able to trim the deficit to 10-7 in the eighth with three runs in the inning on an RBI double from Trenton Jamison and a two-run single by Cristopher DeGuzman. They added another run in the ninth on a fielder's choice off the bat of Jayden Sloan.
DeGuzman finished the night 3-for-5 with a pair of runs batted and a run scored, while Williams finished 2-for-6 for the Hornets who pounded out 12 hits. Guzman suffered the loss on the mound, working 5.0 innings and allowing seven runs (four earned) on seven hits with five strikeouts. Meanwhile, Jurjevich went 3.0 innings and allowed three runs (two earned) on three hits.
The two teams met again Friday night at 6 pm at Toyota Field, with the final game of the series scheduled for 1 pm Saturday afternoon on the Alabama A&M campus.
---
Follow the Hornets
For complete coverage of Alabama State University baseball, follow the Hornets on social media @BamaStateBB (Twitter), /BamaStateSports (Facebook), and @BamaStateSports (Instagram), or visit the official home of Alabama State athletics at BamaStateSports.com.