ASU Track & Field: Alabama State has several top-10 finishes on opening day in Birmingham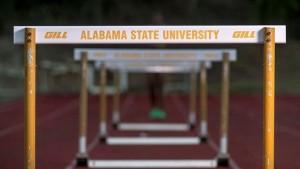 BIRMINGHAM, Ala. | Alabama State finished the opening day of the UAB Spring Invitational with six top-10 finishes on both the men and women's side of the meet.
Bridgette Williams led the Lady Hornets with an eighth place finish in the shot put with a throw of 12.52 meters, finishing just behind Birthe' Franck-Peterson of UAB (12.64 meters). Her teammate, Xiquaria Reliford, fishing 10th in the same event with a distance of 11.92 meters.
On the track, Shamia Jones led Alabama State in the 1500-meters with a time of 5:01.27.
Meanwhile, Daniel Bayeshea led the men with a second place finish in the shot put with a throw of 13.95 meters. Xavier Clarke and Demier Shipley each turned in top-10 finishes in the triple jump, with Clarke finishing fifth overall with a distance of 13.53 meters and finished just behind Henry Davison of Montevallo. Shipley finished seventh overall with a jump of 13.09 meters.
Abdi Hussein finished 10th in the 1500-meters with a time of 3:58.08, finishing just behind Spencer of Moore of Emory (3:57.72). Tarik Simpson just missed a top-10 finish in the shot put, finishing 11th overall with a throw of 9.91 meters.
The meet concludes on Saturday in Birmingham.
---
Follow the Hornets
For complete coverage of Alabama State University track and field, follow the Hornets on social media @BamaStateTFXC (Twitter), /BamaStateSports (Facebook), and @BamaStateSports (Instagram), or visit the official home of Alabama State athletics at BamaStateSports.com.