ASU Softball: Game Preview: Five games in four days for Alabama State, beginning with pair of in-state mid-week games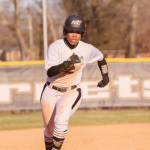 MONTGOMERY, Ala. | Alabama State will play five games in four days beginning with a pair of mid-week games on the road starting Tuesday night.
Alabama State (9-22, 4-5 SWAC) hits the road Tuesday night facing Auburn (21-12) in their first game of the week in a game that was rescheduled from earlier in March. The meeting will be the first, and only meeting, of the year between the two teams and is scheduled for a 5 pm first pitch from Jane B. Moore Field.
The Hornets will then hit the road Wednesday to face No. 4 Alabama (31-5) for the second time this season after meeting in the season-opening tournament at the Barbara Williams Softball Complex in February. The game is scheduled to start at 6 pm at Rhoads Stadium.
Following those two contests, Alabama State returns home for a rare Thursday-Friday series in Southwestern Athletic Conference (SWAC) play against Mississippi Valley State (3-16, 2-7 SWAC). The series will begin with a single game at 5 pm on Thursday, followed by a doubleheader on Friday beginning at 12 noon and all three games will be carried on the Hornet Sports Network. Alabama State enters the series just one game behind both Jackson State and Alabama A&M after a series win over Jackson State this past weekend.
Jaeda Gardner (.356/.411/.413) leads Alabama State in hitting with 26 hits on the season including four doubles, while scoring 12 runs and stealing nine bases. Kaley Anthony (.296/.463/.328) has recorded 16 hits for Alabama State while driving in ten runs, while Jazmine Dodd (.282/.359/.341) has recorded 22 hits and ten runs driven in the season. Madison Myers (14-16) and Kindall DeRamus (13-15) have combined for 27 stolen bases this season for Alabama State.
Due to COVID-19 protocols and socially distant seating in place, only those individuals listed on the Player Pass List for the Mississippi Valley State series will be allowed admission into the complex. Concessions will remain cashless this weekend, and masks are mandatory on the Alabama State campus and all of its athletic venues.
---
Follow the Hornets
For complete coverage of Alabama State University softball, follow the Hornets on social media @BamaStateSB (Twitter), /BamaStateSports (Facebook), and @BamaStateSports (Instagram), or visit the official home of Alabama State athletics at BamaStateSports.com.