Dr. Ulusses Davila discusses mental health in children
By: Lillian Lalo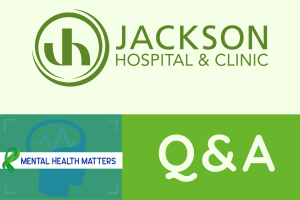 MONTGOMERY, Ala. (Alabama News Network) –  The effects of the global pandemic have been felt far and wide. And that's especially true for children and young people. Pediatrician Dr. Ulysses Davila from Jackson Hospital and Clinic shared information on supporting your child's mental health.
"The stress of dealing with a pandemic presents itself in different ways for different age groups," Davila said.
For younger children, parents may have noticed some regressions over the past year.
Older ages kids might demand more attention from a parent, have poor sleep and eat differently.
"Then you get into the older (teenage) age groups where they really do understand what's going on, and maybe they feel the danger of everything. So it's imperative that as a parent, you explain things and put things into context," said Davila.
For many parents, the pandemic has required them to balance teaching and parenting.
Davila says the American Academy of Pediatrics now recommends that children attend in-person learning — which has helped take the stress off parents and has helped children settle into a new normal.
"As a parent myself, I'm constantly askins myself if I am modeling emotional coping. (Kids) are constantly paying attention. One of the best things we can do for our children is model appropriate behaviors and appropriate coping," Davila said.
If you think your young child might be feeling down – could they depressed? Dr. Davila says it's possible.
"About one and five children, at one point in their lives before 18, will suffer from diagnosable depression. Depression has been diagnosed in children as young as three years old. It can be a short-lived thing. It can be just a single episode. But, regardless, it's a really common problem," said Davila.
Davila says their pediatrician must be aware if your child has been through a traumatic event.
"Experiences that are stressful for children can really affect their future health – not just emotionally, but also physically. Being aware of that with each primary care visit helps us to keep our ears open and keep our minds open to the possibility that this child might be suffering in the background. Asking appropriate questions like: do you feel safe at home? Allowing teenagers to answer questions alone. That's all a part of standard care," Davila said.
Professional Pediatrics is always accepting new patients. However, Davilla recommends that children who have missed well-child visits should be seen as soon as possible.
Click here for more information on Professional Pediatrics at Jackson Hospital and Clinic.