ASU Volleyball: Hornet trio earns SWAC Weekly Volleyball Honors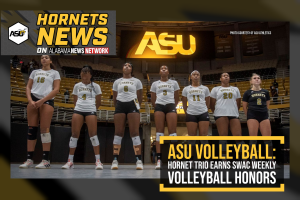 BIRMINGHAM, Ala. | The Alabama State trio of Kalysia Bates (Phenix City, Ala.), McKenzie Boland (Stockbridge, Ga.) and Jada Rhodes (Tallahassee, Fla.) were rewarded for their performances on last weekend by earning Southwestern Athletic Conference (SWAC) Player of the Week honors, announced by the conference office on Thursday morning.
Bates, named the SWAC Newcomer of the Week, recorded 34 kills, nine blocks and six digs in two matches over the weekend against Bethune-Cookman and Florida A&M. The junior played all nine sets for the Hornets on the road and logged 42.5 total points and maintained a .397 hitting percentage over two games.
Boland was named Setter of the Week after logging 63 assists, 21 digs, three service aces and two kills over the weekend. The lone senior on the team, played in all nine sets on the trip, including recording her second double-double of the season with a 29 assist and 12 dig performance in the Lady Hornets win against the Wildcats on Friday.
Rhodes, the SWAC Offensive Player of the Week, earned 36 kills in two games including a career-high 25 in a comeback win over Florida A&M, her third consecutive game with double-digit kills. The sophomore also recorded double-doubles in both matches with 30 combined digs, an assist, ace and block over the weekend.
Alabama State will take on rival Alabama A&M for their only game of the weekend on Friday, October 22. First serve in Elmore Gymnasium is scheduled for 6 pm.
---
Follow the SWAC
For complete coverage of the Southwestern Athletic Conference, please follow the SWAC on social media at @TheSWAC (Twitter), @TheSWAC (Facebook), and @TheSWAC (Instagram) or visit the official home of the Southwestern Athletic Conference at www.swac.org.
Follow the Hornets
For complete coverage of Alabama State University volleyball, follow the Hornets on social media @BamaStateVB (Twitter), /BamaStateSports (Facebook), @BamaStateSports (Instagram) or visit the official home of Alabama State athletics at BamaStateSports.com.